Cart (

0

)
Recently Added

0

Item
Total

$0.00 USD
The item you just added is unavailable. Please select another product or variant.

Cart (

0

)
Recently Added
Total $0.00 USD
The item you just added is unavailable. Please select another product or variant.
Suffering from sleepless nights?
All-Natural Sleep Patch With Melatonin!
FREE SHIPPING!
Improve the quality of sleep with Dr Patchwells revolutionary Better Sleep patch. Better Sleep contains melatonin, a natural hormone that helps control the body's sleep cycle. As we age the amount of melatonin in our body may naturally decrease, which is why a supplement is needed when it falls. Better Sleep is non-addictive and drug-free. Our patch technology provides much better nutrient absorption compared to pills, powders, or liquids. Better sleep is safe, easy, and convenient to use.*
Better Sleep:
May help you fall asleep faster
May combat insomnia with a mix of natural ingredients
May help diminish jet lag
May improve the quality of sleep and diminish fatigue
"These statements have not been evaluated by FDA. This product is not intended to diagnose, treat, cure or prevent any disease."
Place the patch on your body where you have little or no hair about 40-60 minutes before you go to sleep. Make sure there is no oil or lotion in the area. Its best to use the patch after you shower. Make sure to remove the next morning.
Better Sleep contains a powerful combination of supplements that may help you fall asleep including:
-Melatonin is a natural hormone made by the pineal gland whose levels rise towards the evening. Melatonin helps promote natural sleep and maintains a regular sleep cycle.
-5-HTP (5-hydroxytryptophan) is an amino acid that serves as a precursor of serotonin and has been shown to assist with mood. It has also been shown to promote healthy sleep cycles.
-Valerian Root is a herb commonly used for sleep disorders, especially the inability to sleep (insomnia). Valerian is also used orally for anxiety and psychological stress.
-Chamomile Extract is a well known herb used for centuries to reduce stress and anxiety.
-Other ingredients that aid with falling asleep faster include Hops and Passion Flower Extract.

Better Sleep Patch is all natural and safe, but we still advise that pregnant/nursing women talk to their physician before use. The patch is hypoallergenic, but if redness or rash develops discontinue use.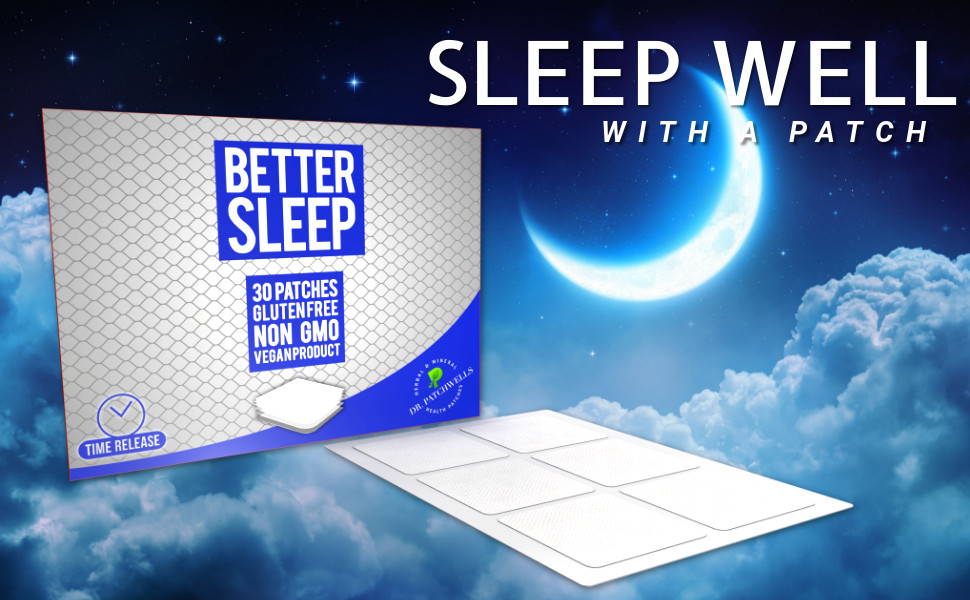 Better Sleep from Dr Patchwells is our advanced topical patch that may help you relax and get a good night's sleep.To feel the relaxative effects you just place the patch on bare skin an hour before sleeping.
The 10+ 100% organic and vegan ingredients go to work easing your mind and help you fall asleep.*
Eases tension and fatigue while promoting restful sleep!
*The statements made regarding these products have not been evaluated by the Food and Drug Administration. The efficacy of these products has not been confirmed by FDA-approved research. These products are not intended to diagnose, treat, cure or prevent any disease.




100% ALL NATURAL SLEEP AID PATCH

Many of the ingredients in oral sleep aids get inactivated by the time they pass through the stomach and liver.
With Dr Patchwells Better Sleep you can:
-Get 10+ natural and powerful herbal ingredients that will help you relax and fall asleep
-Get more effective sleep enhancement and relaxation than pills, powders, or drinks
-Avoid the hassle often found with oral based sleep aids
-Ease tension, relax, and improve sleep quality with a single easy to use patch!