Cart (

0

)
Recently Added

0

Item
Total

$0.00 USD
The item you just added is unavailable. Please select another product or variant.

Cart (

0

)
Recently Added
Total $0.00 USD
The item you just added is unavailable. Please select another product or variant.
FEEL BETTER AFTER DRINKING WITH OUR
HANGOVER DEFENSE PATCH
With a unique blend of natural, organic, herbal, vitamin, and mineral ingredients, our specially formulated hangover patch contains essential nutrients to replenish the body before the consumption of alcohol and dehydration of the system. Hangover Defense is safe, easy, and convenient to use.
Why Hangover Defense patch?
May help prevent hangovers before they start.
PHYSICIAN FORMULATED

ALL NATURAL PROTECTION
Many of the ingredients in oral hangover aid products get inactivated by the time they pass through the stomach and liver.
With Dr Patchwells Hangover Defense you can:
-Get 10+ natural and powerful herbal ingredients that may provide hangover relief
-Get more effective results than pills, powders, or drinks
-Avoid the hassle often found with your standard hangover relief aids

"These statements have not been evaluated by FDA. This product is not intended to diagnose, treat, cure or prevent any disease."
Just place the patch on an area of skin where you have little or no hair and leave it on the whole day. Make sure there is no oil or lotion in the area. The patch can get wet, but not immersed in water so we advise to place it on after you shower. Each patch lasts about 8 to 10 hours. Simply take it off several hours before you go to sleep
Some of the natural ingredients that help with hangovers included in the patch are:
-Milk Thistle a herbal supplement that detoxifies & helps with vital liver functions and more. Milk thistle also contains properties shown to offer the body antioxidant benefits. Milk thistle protects the body from alcohol related liver damage
-Vitamin B12 is depleted when consuming alcohol. The dosage of B12 in Hangover defense helps replenish B12 levels.
-Ginger Root Extract can help alleviate the pain and headache pressure that appears the morning after a night out drinking. It also helps settle upset stomach
-Vitamin C is also added and helps stimulate the liver to breakdown the alcohol
Please consult a physician if pregnant, nursing, or taking blood pressure/heart disease medications. As a reminder, it is recommended to stay well hydrated before consuming any alcohol. This helps restore vitamin and nutrient levels back to normal levels.
Hangover Defense from Dr Patchwells is our advanced topical patch designed to ease and relieve hangovers!*To get the hangover protection you just place the patch on an area of skin with little to no hair before enjoying your alcoholic beverage. The 10+ 100% organic and vegan ingredients go to work alleviating the negative effects of alcohol as you drink.Feel better after a round of drinks!**The statements made regarding these products have not been evaluated by the Food and Drug Administration. The efficacy of these products has not been confirmed by FDA-approved research. These products are not intended to diagnose, treat, cure or prevent any disease.
ENJOY THAT COCKTAIL WITH HANGOVER DEFENSE PATCH FROM DR PATCHWELLS!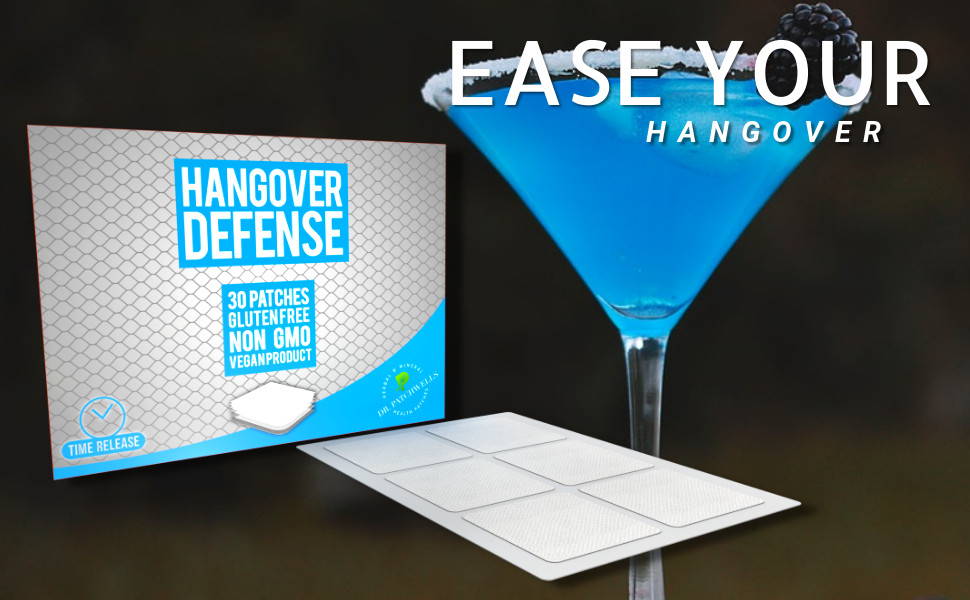 100% ALL NATURAL HANGOVER DEFENSE!
If you're looking for an all-natural way to recover after drinking alcohol, than our Hangover Defense patch is the answer. Our team of physicians developed and formulated Hangover Defense with all natural ingredients designed to protect the body from the negative effects of alcohol.
The patch is 100% natural and has no side effects.
Hangover Defense is:
ZERO CALORIE
LATEX FREE
GLUTEN FREE
NON-GMO
Use one patch before drinking!
POWERFUL NATURAL INGREDIENTS INCLUDING:
Picrorhiza Kurroa Extract